Ceramic Insulating Heat Dissipation Substrates (Plain Substrates)
If you have any inquiries, please contact us.
Open 9:00am-5:00pm (business days)
Contact Us
Silicon nitride ceramics:
Plain substrates
Toshiba Materials' silicon nitride ceramic substrates have both heat dissipation and strength.
They are used in electronics fields such as power semiconductor modules, inverters and converters, replacing other insulating materials to increase production output and reduce size and weight.
Their extremely high strength also makes them a key material that increases the life and reliability of the products they are used in.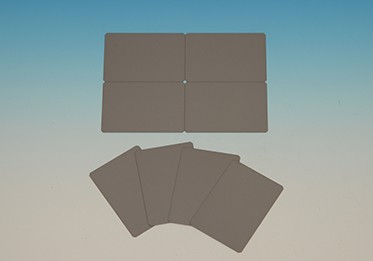 Features
Among the best in the world for heat dissipation and strength
Enables designs involving drilling and screwing or pressure welding, methods that are usually difficult
Comparison with other materials
Comparison with other materials : Silicon nitride ceramics

For electronic silicon nitride (SIN), instead of lowering the bending strength from our structural silicon nitride TSN-03, the thermal conductivity has been significantly improved to achieve both thermal conductivity and bending strength.

Item
Measuring method
Si3N4(SIN)
AlN
For electronic applications
For structural applications
[TAN-170-250]
[TSN-90]
[TSN-03]
Thermal conductivity
(W/(m K))
JIS_R1611 Laser flash method
85-95
20
160-255
Bending strength
(MPa)
JIS_C2141 7_Three point bending strength
650
1000
300-450
Fracture toughness
(MPa-m1/2)
JIS_R1607 IF(Indentation Fracture) method
5-7
6-8
2-4
Linear expansion coefficient
(x10-6/K)
JIS_C2141 10 Thermomechanical Analysis
2.6
3.0
4.5-4.6
Dielectric strength
(kV/mm)
JIS_C2110-1 5.2.1.2
>14
>14
>14
Relative permittivity
JIS_C2141 16.
7-9
7-9
8-9
Product specifications (Standard design)
Product specifications : Silicon nitride ceramics
Item
Unit
Silicon nitride (SiN)
TSN-90
External dimensions
mm
Max. 170×130
Tolerance
± 0.15mm (laser cut)
Thickness
mm
0.32/0.635
Tolerance
±0.05mm
Warping
mm
0.4% or less (≤50mm Span)
Surface processing
-
Blasted
*The value of a table is not a guaranteed performance.
*Please contact us if you have any requests regarding external dimensions and thickness.
Examples of uses
Double-sided heat dissipation in power cards (power semiconductors) - power control units for automobiles

Power IGBT/MOSFET discrete packaging

Inverters
Converters
Batteries
Secondary cells
Automobile air conditioning
LEDs
Benefits for customers
Higher output
Smaller size
Lighter weight
Longer life
Greater reliability
Catalog
If you have any inquiries, please contact us.

: The link of this icon opens in a new browser window.