Amorphous Magnetic Parts
If you have any inquiries, please contact us.
Open 9:00am-5:00pm (business days)
Contact Us
FS Series Cores with High Magnetic Permeability
The FS series contains cores with high magnetic permeability. These cores have a particularly high initial permeability in the kHz bands, making them well suited for pulse transformers, noise filters and sensors. Their high magnetic permeability also enables more compact pulse power cores to be produced.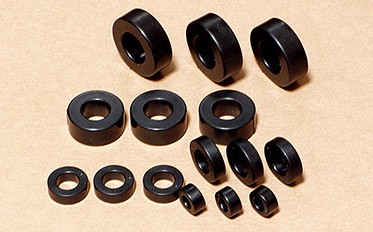 Features
High magnetic permeability enables more compact inductors with higher performance
High initial magnetic permeability in the kHz bands
Low loss, improving transformer performance
Minimal change in permeability in response to changes in magnetic field (strong iso-permeability)
Product specifications
Product specifications
Examples of uses
Pulse transformer cores for communication
Cores for current sensors
Common mode noise filters (switching power supplies and communication; measurement devices)
Pulse power cores
Environmental information download
RoHS Directive Prohibited Substances Non-Use Certificate Download
It is possible to download a certificate of non-use for 10 regulated substances under the RoHS Directive.
Certificate PDF
Target products are amorphous standard products.
Please contact the you purchased shop for other requests.
Products
Item name
AMOBEADS™
AB3X2X3W
AB3X2X4.5W
AB4X2X4.5W
AB4X2X6W
AB4X2X8W
AB2.8X4.5DY
AB3X2X3DY
AB3X2X4.5DY
AB4X2X6DY
AB5X4X3DY
LB4X2X8F
LB4X2X8U
LB2.8X4.5U
AB3X2X3SM
AB4X2X6SM
SPIKE KILLER
SS7X4X3W
SS10X7X4.5W
SS14X8X4.5W
Saturable Cores for Mag Amps
MT12S115
MT12S208
MT15S125
MT15S214
MT18S130
MT18S222
MT21S134
MT21S222
MT10X7X4.5W
MT12X8X4.5W
MT14X8X4.5W
MT15X10X4.5W
MT16X10X6W
MT18X12X4.5W
MT21X14X4.5W
MS7X4X3W
MS10X7X4.5W
MS12X8X4.5W
MS12X8X4.5W-HF
MS14X8X4.5W
MS15X10X4.5W
MS16X10X6W
MS18X12X4.5W
MS21X14X4.5W
MS26X16X4.5W
FS Series Cores with High Magnetic Permeability
FS12X8X4.5W
FS18X12X4.5W
FS21X14X4.5W
FS26X16X10W
FS32X20X10W
If you have any inquiries, please contact us.

: The link of this icon opens in a new browser window.