Amorphous Magnetic Parts
If you have any inquiries, please contact us.
Open 9:00am-5:00pm (business days)
Contact Us
Magnetic Sheets and LF Antennas
Magnetic sheets made with thin, amorphous magnetic strips for high magnetic permeability. With both high magnetic permeability and low loss in low frequency bands (30kHz-1MHz), these sheets are used for purposes such as radiation noise shields in electronic devices (SS Series) and low-frequency antenna cores (TS Series).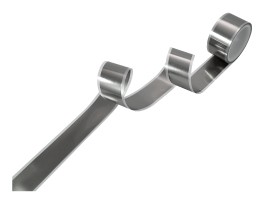 Features
SS Series for Magnetic Shields

Made with SS sheet with high magnetic permeability (relative permeability: 18,000 at 100kHz: Amorphous cobalt type)
Higher relative permeability in low frequency bands (30kHz-1MHz) than magnetic powder sheets, achieving an electromagnetic shield effect
Lightweight with a thickness of just 63μm (excluding PET release)

Product specifications

Antenna Cores for Low Frequency Bands (TS Series)

Made from layers of thin amorphous strips (t=0.02mm), enabling slimmer sizes
Highly shock-proof - no cracking when dropped or subjected to deforming stress
Comparatively low temperature change in response to inductance
Can be pressed
Enables thinner antennas (0.4mmt), helping to make radio clocks and smart key systems more portable with better designs
Specifications such as dimensions and configuration are designed to meet your needs. Inquire for details.
Examples of uses
Magnetic shields for devices operating in low frequency bands (30kHz-1MHz)
Magnetic shields from metals
Magnetic shields for terminal devices such as tablets, digitizers and smartphones
Failure prevention for various electrical converters and sensors
Receiver antennas for radio clocks
Keyless locks, smart keys, tire pressure monitoring systems (TPMS), RFID
Transmitter and receiver antennas for various residential keys and other devices operating in low frequency bands (30-300kHz)
Environmental information download
RoHS Directive Prohibited Substances Non-Use Certificate Download
It is possible to download a certificate of non-use for 10 regulated substances under the RoHS Directive.
Certificate PDF
Target products are amorphous standard products.
Please contact the you purchased shop for other requests.
Products
Item name
AMOBEADS™
AB3X2X3W
AB3X2X4.5W
AB4X2X4.5W
AB4X2X6W
AB4X2X8W
AB2.8X4.5DY
AB3X2X3DY
AB3X2X4.5DY
AB4X2X6DY
AB5X4X3DY
LB4X2X8F
LB4X2X8U
LB2.8X4.5U
AB3X2X3SM
AB4X2X6SM
SPIKE KILLER
SS7X4X3W
SS10X7X4.5W
SS14X8X4.5W
Saturable Cores for Mag Amps
MT12S115
MT12S208
MT15S125
MT15S214
MT18S130
MT18S222
MT21S134
MT21S222
MT10X7X4.5W
MT12X8X4.5W
MT14X8X4.5W
MT15X10X4.5W
MT16X10X6W
MT18X12X4.5W
MT21X14X4.5W
MS7X4X3W
MS10X7X4.5W
MS12X8X4.5W
MS12X8X4.5W-HF
MS14X8X4.5W
MS15X10X4.5W
MS16X10X6W
MS18X12X4.5W
MS21X14X4.5W
MS26X16X4.5W
FS Series Cores with High Magnetic Permeability
FS12X8X4.5W
FS18X12X4.5W
FS21X14X4.5W
FS26X16X10W
FS32X20X10W
If you have any inquiries, please contact us.

: The link of this icon opens in a new browser window.