Ceramic Insulating Heat Dissipation Substrates (Plain Substrates)
If you have any inquiries, please contact us.
Open 9:00am-5:00pm (business days)
Contact Us
Aluminum nitride ceramics:
Plain substrates
Our aluminum nitride ceramic substrate has high heat dissipation. Our insulating heat dissipation substrates have thermal conductivities ranging from 170 to 230W/m・K, making them ideal for areas requiring high heat dissipation or those requiring a somewhat thick substrate that can withstand high voltages.
They are also ideal for use as semiconductor substrates as they have a similar thermal expansion rate to silicon, silicon carbide, gallium nitride and gallium arsenide chips.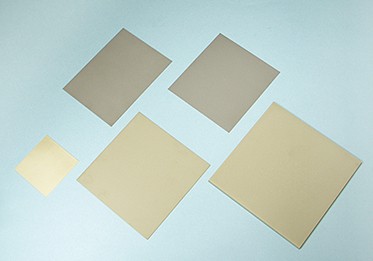 Features
A lineup with high heat dissipation and a wide variety of thermal conductivity
Characteristic list
Characteristic list : Aluminum nitride ceramics
Item
Measuring method
AlN
[TAN-170,200,230]
Thermal conductivity
(W/m・K)
JIS_R1611 Laser flash method
170,200,230
Bending strength
(MPa)
JIS_C2141 7 Three point bending strength
>300
Fracture toughness
(MPa・m1/2)
JIS_R1607 IF(Indentation Fracture) method
2.5~3.5
Coefficient of thermal expansion
(×10-6/K)
JIS_C2141 10
Thermomechanical Analysis
4.6
Dielectric strength
(kV/mm)
JIS_C2110-1 5.2.1.2
15
Dielectric constant
JIS_C2141 16.
8.8
*The value of a table is not a guaranteed performance.
Product specifications (Standard design)
Product specifications : Aluminum nitride ceramics
Item
Unit
Aluminum nitride (AlN)
TAN-170
TAN-200
TAN-230
Thermal conductivity
W/m・K
170
200
230
Outer dimentions
mm
MAX 114.3x114.3 (4.5inch square)
MAX 100x100
Tolerance
Standard:±1%.  Laser cut:±0.2mm
Thickness
mm
0.4~2.5
0.4~1.5
0.635
Tolerance
Standard:±10%.  Polished:±0.02mm
Warping
mm
0.4% or less
Surface processing
-
Standard:Blasted, lapped, mirror polished, no surface processing
*The value of a table is not a guaranteed performance.
*Please contact us for external dimensions and thickness.
Examples of uses
Bases of thick film, thin film and microcircuit substrates
Resistance chips (chip resistors)
Benefits for customers
Higher output
Smaller size
Catalog
If you have any inquiries, please contact us.

: The link of this icon opens in a new browser window.