Samarium Cobalt Magnets
If you have any inquiries, please contact us.
Open 9:00am-5:00pm (business days)
Contact Us
TOSREX Samarium Cobalt Magnets
Our rare earth metal cobalt magnets (TOSREX) have a high Curie temperature and stable magnetic properties, enabling use at high temperatures.
Their residual magnetic flux density (Br) also experiences minimal change with temperature, making them well suited to various sensors that will be used in extreme temperature environments. No heavy rare earth metals are used, eliminating the risks involved in procuring metals such as dysprosium. Our series ranges from high saturation magnetization types to high coercivity types to meet various needs. We have also commercialized unique variable magnets whose magnetic force can be changed easily.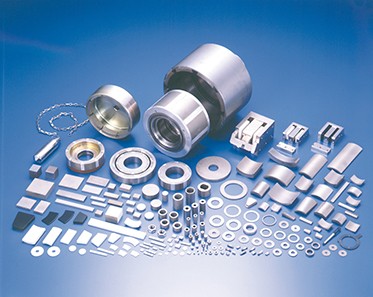 Features
Outstanding heat resistance

Curie temperature: 780-860℃
Thermal coefficient of remanence (Br): -0.036%/℃
Examples of uses
Magnetic couplings
Various motors
Magnets for sputtering devices
Various actuators
Magnets for in-vehicle functions (ABS, ignition, etc.)
Design of constituent parts and magnetic circuits
Magnetizing systems (design and production of magnetizing power supplies and yokes)
Catalog etc.

(opens in a new window)
If you have any inquiries, please contact us.

: The link of this icon opens in a new browser window.